Filter by Category
Languages
Spanish 1 - LAC122
with MULTIPLE INSTRUCTORS

Next available session starts Oct 4, 2022 at 6:30 pm
Spanish 1 An informal approach to learning the Spanish language through interactive in-class communication, exchanging greetings, engaging in simple conversations and learning useful everyday vocabulary. You'll enjoy conversing in class, at home, at work, or on vacation using your newly learned Spanish skills.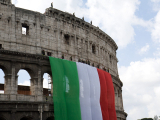 Italian 1 - LAC120
with MULTIPLE INSTRUCTORS

Next available session starts Oct 6, 2022 at 6 pm
Italian 1 Vogliono Imparare I'italiano? Learn how to understand and carry on simple conversations in Italian. Explore cultural aspects along with various dialects spoken throughout Italy.