Filter by Category
Writing
Novel Bootcamp: Part 1 - LAC140
with ANTHONY GANGI

Next available session starts Sep 28, 2022 at 6:30 pm
Novel Bootcamp: Part 1 Join author and former Bantam Doubleday Dell editor, Anthony Gangi, who will guide you through the steps of getting from beginning to end of that ever elusive first draft. With a bulk of the writing being done outside class time, this intensive course will guide you through the process of writing a novel with a full draft completed by the end of the eight week cycle. Particular attention will be paid to structure, characterization, and dialogue. Support will be provided by the instructor and fellow students.
E-Book: How to write and Get it Published - LAC148
with ANTHONY GANGI

Next available session starts Oct 17, 2022 at 6:30 pm
E-Book: How to write and Get it Published See your work published tomorrow! Yes, you read that right. You could be a published author ASAP thanks to the world of E-book publishing and self-publishing. Join us for an in-depth look at some of the best publishers around today and how to avoid some of the pitfalls that most authors make when venturing out on their own in this brave new world.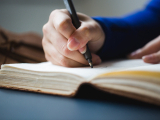 Creative Writing - LAC149
with ANTHONY GANGI

Next available session starts Nov 1, 2022 at 10 am
Creative Writing Do you have a story to tell or an emotion to convey? Begin each class with an exercise that will initiate you into the process of creative writing. Explore the genre of short fiction, and you are also welcome to explore creative non-fiction and poetry. Topics of discussion will include strategies for keeping the process flowing in the midst of our busy lives and ways to publish your work in print or online. You will have the opportunity to share your work and receive feedback from other writers. Current writers are welcome, and no prior experience is necessary.