Filter by Category
Auto Damage Appraisal
Auto Damage Appraisal: 60-Hour Test Prep - OTD150
with MULTIPLE INSTRUCTORS

Next available session starts Apr 1, 2023 at 9 am
1 additional session
Auto Damage Appraisal: 60-Hour Test Prep Have some automotive experience? Obtain the necessary knowledge needed to get your Automobile Appraisal License in this Massachusetts state-approved course. Learn to read, write, and appraise auto damage and prepare for the state certification exam. Cost includes digital access required manual.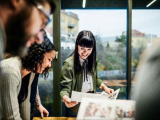 SketchUp Level 1 - BAA110
with MULTIPLE INSTRUCTORS

Next available session starts May 4, 2023 at 6 pm
SketchUp Level 1 Designed to teach the fundamentals of both 2D and 3D computer aided drawing. Emphasis will be placed on fully understanding the SketchUp interface and inference system. Lectures, tutorials, and in class assignments will guide you through the use of SketchUp's drawing, construction, and modification tools. By the end of the course you will have a 3D model constructed of groups and layers which will be ready for further development in the Level 2 SketchUp Course. Flash drive,and Sketchup software required. Strong computer skills and knowledge of windows required. Students must activate their My Northshore account and download Sketchup Software prior to first class. Discounted SketchUp software available at https://shop.creationengine.com/collections/sketchup-studio-for-students.